Invisible Machine Appliqué
Invisible Machine Applique'

This painless method of appliqué is quick, accurate and almost invisible. Once you learn how easy machine appliqué can be, appliqué projects will no longer seem scary! Annemarie will provide personalized instruction along with some great helpful hints. With your newfound machine confidence and skill you may even decide to tackle an entire quilt.

Your own machine and manual are required for the class. Your machine must have an adjustable blind hem stitch or variable overlock stitch. Pattern provided.

6 Hour Class


Click Here to inquire about a lecture date.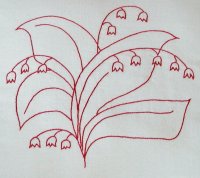 Redwork 101


Redwork was a popular form of stitching from the late 1800s to the late 1930s. Today Redwork is exhibiting a strong resurgence. In the class you will work on a small piece of Redwork concentrating on a few of the basic stitches. The 3-Hs will be covered…Hints, History, and How-to's. This is a class for those who enjoy a peaceful and relaxing project with a vintage flair.
*Kits are Available.

3 Hour Class


Click Here to inquire about a lecture date.
Piecing in a Small Way

'Piecing' fun for the day! Learn some of Annemarie's tricks and techniques for piecing small quilts. Three to six specific techniques will be taught depending on the pattern choice. Patterns offered for class will focus on rotary cutting and precision machine piecing. Of course, some of Annemarie's favorite tips and tricks will be covered. Your guild will choose one of the Quilts Remembered patterns for a class. Pattern included with class. (Pre-cutting required)



3 hour class - Suggested pattern: Rick-Rack Spools, Miss Molly's Baskets or Old Time Pinwheels
6 hour class - Suggested pattern: Soldier Album, Stars Divided or Laura's 1870 Cradle Quilt
Click Here to inquire about a lecture date.